Are you looking for effective direct response advertising?
Looking for a PPC agency in Essex? PPC advertising is one of the most effective forms of direct response advertising. In experienced hands your PPC marketing will provide you with instant accountable results that can be worked back to an exact ROI.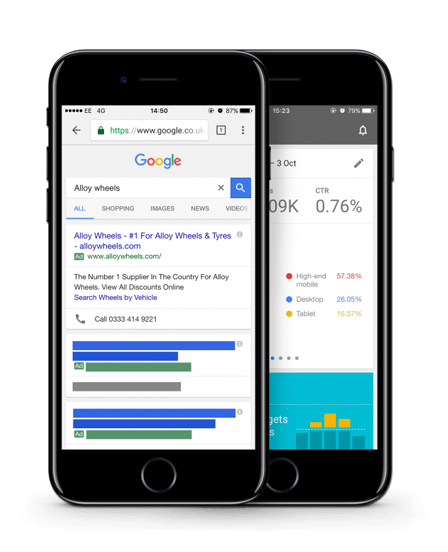 Looking for a PPC Agency in Essex who partner with Google?
Forefront work hand in hand with Google directly, we have our own personal account manager who is able to provide us with industry insights and strategies that can be tailored specifically for your business and marketplace. Our relationship is so strong with Google that we are also able to use their office when meeting clients in London!
The Google partner badge is recognition to companies that excel with Google's products. Their businesses are healthy, their customers are happy, and they use Google best practices.
Why use a PPC Agency?
The advantages of PPC advertising are endless, these include exact targeting for keywords that are all extensively researched in order to define the correct targeting methods required to make the most of your PPC budget. Forefront are certified Adwords professionals, we have a team of expert digital marketers who are dedicated to exceeding your objectives and work alongside dedicated account managers at Google.
Our agency will build PPC campaigns on a granular level
Forefront provide PPC and also SEO services that are customised to our client's requirements. Provided with confirmation of your budgets we will supply you with PPC campaigns that are built to a granular level with keywords that are researched, monitored and reported on. Each keyword and campaign is analytically accountable due to phone call and email conversion tracking being implemented, managed and reported on.
Contact the leading PPC Agency in Essex!